Airbus: Development Centers for Zero Emission Aircraft
By: Maycol Vargas Source: Airbus and Simple Flying
Amsterdam, June 15, 2021 – Airbus, the global leader in aeronautics and space, has established zero-emission development centers in Germany and France.
With the creation of Zero-Emission Development Centers (ZEDC) at its facilities in Bremen, Germany and in Nantes, France, the giant Airbus decides to focus its efforts on the development of metal hydrogen storage tanks.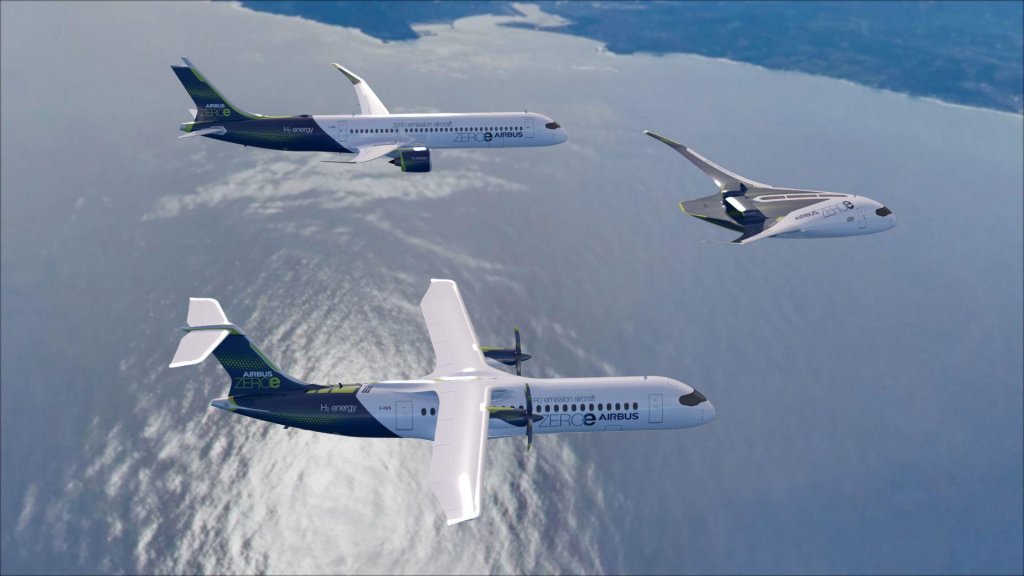 In a statement, Airbus revealed that the objective of these new facilities is to achieve a competitive cost in the manufacture of cryogenic tanks, to support a successful future launch of ZEROe aircrafts in the market and thereby accelerate the development of hydrogen propulsion technologies. It is important to highlight that the design and integration of the tank structures are crucial steps for the development of a future hydrogen-powered aircraft.
It is expected that the ZEDCs will be fully operational as early as 2023. The manufacture of the LH2 tanks and a first test flight is scheduled for 2025.
The development of this technology encompasses the product as a whole, ranging from industrial features of elementary parts and assembly, to the integration and cryogenic testing of the final liquid hydrogen (LH2) tank system.
ZEROe
In September 2020, when Airbus unveiled its zero-carbon flight intent, three hydrogen-powered ZEROe concept aircraft were revealed. Each of these aircrafts were presented in different versions, with different aerodynamic approaches, layouts and ways of storing hydrogen on board.
To boost the development of hydrogen propulsion technologies, Airbus decided to launch a complementary project, focusing on the design and integration of hydrogen tanks.
To know a little more about ZEROe aircrafts:
Airbus said: "At Airbus, we have the ambition to develop the world's first zero-emission commercial aircraft by 2035. Hydrogen propulsion will help us to deliver on this ambition. Our ZEROe concept aircraft enable us to explore a variety of configurations and hydrogen technologies that will shape the development of our future zero-emission aircraft."
Bremen Facilities
The Airbus facilities in Bremen, Germany, were selected due to their configurations and also because of the background of years of LH2 experience in defense and space. Bremen's ZEDC will initially focus on system installation as well as cryogenic testing of the tanks. This center will also benefit from a broader hydrogen research environment as it houses the Center for Eco-Efficient Materials and Technologies (ECOMAT), and other facilities with aeronautical and space activities.
Nantes Facilities
The facilities in Nantes, France were chosen because of their extensive knowledge of structural technologies related to the wing-box, as well as the central tank for commercial aircrafts. The Nantes ZEDC will benefit from the skills of the Nantes Technocentre, supported by a local innovation environment such as IRT Júlio Verne. This way, it will be possible to manage a wide range of metallic composites and integration technologies. The center also has experience in nacelle, radome and center fuselage design.
Alignment
Airbus is aligned with German and French regional ambitions and will work to promote collaboration across sectors to support a transition to hydrogen-powered technologies, as well as the development of the necessary infrastructure.
LH2 – Liquid Hydrogen
The fuel tank is a critical safety component, and therefore very specific system engineering is required. Storage of LH2 is extremely more challenging than storage of aviation kerosene, as LH2 needs to be stored and maintained at a temperature of -250 °C to liquefy. Fuel liquidity is needed to increase density. Dealing with commercial aviation, the challenge is to develop a resistant component, so that it can withstand repeated thermal and pressure cycles.
Initially, LH2 storage tank structures for commercial aircraft applications are expected to be metallic. However, there is a huge potential in using other materials such as carbon fiber and reinforced polymer composites.
Maycol M. Vargas is an Aeronautical Engineer with a doctorate degree in Space Engineering and Technology and eyesonbrasil correspondent.