Why Carbon Capture is important for Suriname, Brazil and Indonesia
Financial Incentives Important 
eyesonsuriname/ dr. Lorraine Sobers
Amsterdam, March 9th 2023 — The CEO of Hess Corporation, John Hess, speaking at the International Energy Conference and Expo Guyana, explained to the audience that "Carbon credits provide financial incentives to preserve forests and biodiversity that are at risk to growing economic activities and demand for natural resources."
The purchase of carbon credits by an oil producer within the jurisdiction of its operations is direct as any carbon emission offsetting arrangement can be. In December 2022, American-based Hess Corporation announced that their company will purchase US$750 million in carbon credits, over a 10-year period.
Hess Corp is currently a consortium partner in the prolific oil-producing Stabroek Block, located offshore Guyana. These carbon credits are intended to help conserve Guyana's lush rainforest which consume CO2 and release oxygen into the atmosphere. In the simplest terms, carbon credits are a mechanism to obtain waste disposal services for CO2.
I remember booking my first online flight, with my first credit card in hand, to travel to Trinidad while a student at Texas Tech University. The travel website offered the sale of carbon credits to offset emissions attributed to my 3000-mile flight from Lubbock, Texas to Piarco, Trinidad, with a stop or two along the way.
"Would you like to purchase carbon credits to offset your trip?" the screen prompted, with the options, 'yes' or 'no'. A similar question is posed to corporations and countries worldwide "Would you like to purchase carbon credits to offset your operations?"
The United Nations' Reducing Emissions from Deforestation and Forest Degradation (REDD+) program, established in 2007 under the Paris Agreement, facilitates carbon offsets for forest conservation at a larger scale.
The program provides guidance for the management of the forest sector to mitigate climate change. REDD+ and its formal mechanism to operate, Architecture for REDD+ Transactions (ART), are outlined in Article 5 of the agreement. A company can offset its carbon emissions by purchasing credits, these funds support projects that promote conservation and forestry.
Guyana's forests are estimated to store almost 20 billion tonnes of carbon dioxide within 18 million hectares of rainforest, making Guyana a significant carbon sink on the planet. Recently, ART verified 33.47 millions tons of Carbon Credits to Guyana for the period 2016 to 2020; each carbon credit offsets one metric ton of carbon emissions.
By purchasing these carbon credits, Hess Corp moves closer to achieving its objective of net zero greenhouse gas emissions by 2050 and Guyana is able to conserve its forest and maintain one of the lowest deforestation rates in the world.
This initiative to avoid deforestation is aligned to the aim stated in the Paris Agreement to limit global average temperature increase to well below 2°C. Under this agreement, Guyana and over 100 countries committed to end deforestation by 2030.
Several speakers at Guyana's International Energy Conference and Expo referred to Guyana's strategy as a model for global sustainable development. Featured speaker, President Dr. Mohamed Irfaan Ali, said, "When we speak about development and transformation and the positioning of Guyana, it is not guesswork…It calls for big thinking."
President Ali hailed Guyana's expanded Low Carbon Development Strategy 2030 (LCDS) as a document and approach that the world should emulate, stating, "The LCDS is not an idea…The LCDS is a demonstration of a practical document and Guyana's position is to make the LCDS a global model for sustainable development."
At the forefront of this document is Guyana's proposed "new ecosystems services economy" which currently focuses on "forest climate services" with future intentions to integrate biodiversity, water management, ocean, and marine resources into these services.
The 'big thinking' that President Dr. Ali refers to includes placing monetary value as carbon credits on natural resources that provide climate services to the planet. It is well known that under the LCDS, the government of Guyana also plans to use funds to support renewable energy and climate mitigation projects.
Vice President Dr. Bharrat Jagdeo put forward the argument that Guyana was not only a model for sustainable development, but the country is also able to develop its resources with credibility because of its long time advocacy for climate action and its carbon negative status.
Several Guyana government ministers and Trinidad and Tobago's Prime Minister Dr. Keith Rowley and Minister of Energy, Stuart Young, pointed out that developed countries returned to coal-fired power stations following the recent gas shortage resulting from the Ukraine-Russia conflict. However, these countries persist in asking developing countries not to develop their hydrocarbon resources, including natural gas, which is a much cleaner burning fuel than coal.
Each Guyanese government official at the conference reiterated Guyana's credibility and right to produce hydrocarbons because 1) the country needs to develop its resources before peak oil demand, 2) the country needs funds to improve its infrastructure and adapt to climate change, and 3) the country has been doing more than its share for the planet as a carbon sink by maintaining its very large, pristine forest.
If developed countries are displeased with this perspective, they have only themselves to blame. The roll out of funding from the United Nations Framework Convention on Climate Change (UNFCCC) is painfully cumbersome and slow. Vice President Jagdeo stated that other Caribbean countries may be waiting for these promised funds, but Guyana cannot afford to wait. As I said previously, developing countries are footing the bill for climate change.
Guyana has presented an innovative way to achieve its low carbon development objectives without sacrificing its progress. This solution may not be applicable to all CARICOM or Small Island Developing States, but I hope this approach is a catalyst for at-risk nations to explore affordable funding options that meets national development objectives.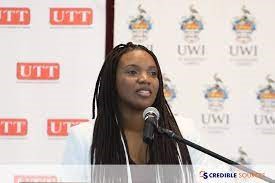 Dr. Lorraine Sobers lectures at the University of the West Indies, St. Augustine. She has 20 years' experience in the energy sector specialising in Carbon Capture and Storage (CCS). Dr. Sobers is the Project Coordinator for CO2 Emission Reduction Mobilisation (CERM) Project and a Fellow of the Caribbean Policy Consortium.
eyesonsuriname/ dr. Lorraine Sobers