Rock in Rio: GloboSat performed immersive remote production in 4K with Lawo V_matrix and mc² consoles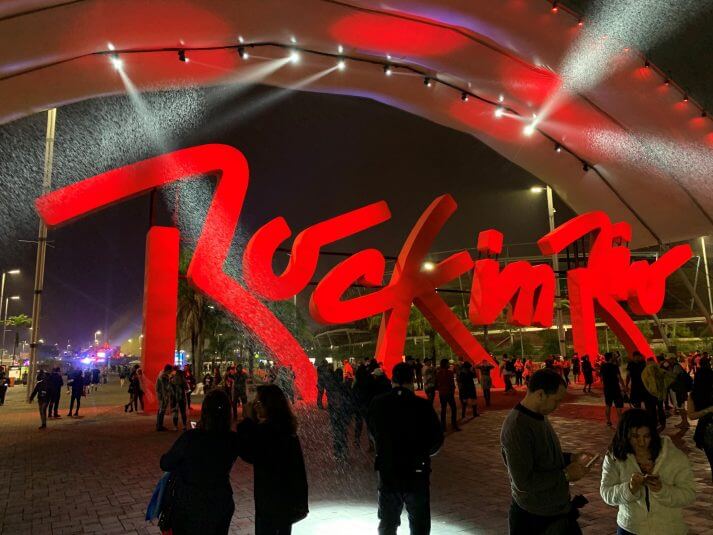 Globosat performed the live broadcast using Lawo's IP infrastructure
Lawo, a German company, said in a statement that GloboSat used during the 10 days of Rock in Rio 2019 held in the Olympic Park of Barra, in Rio, remote production connecting the also known as "City of Rock" with the production center of GloboSat which is approximately 15 km away via two 2x 80Gbit / s fiber optic paths (red and blue).
In the statement, the company states that TV Compound was designed as the central point to collect all signals from the various sectors of the Olympic Park. The smaller stages, including the Sunset Stage, were equipped with Lawo V_remote4 units for converting video and audio to IP and signal processing, relaying the feeds to the TV Compound located near the main stage, "Palco Mundo".
Transmitting directly from the Main Stage of Rock in Rio
Given the relatively short distance, the 16 cameras and audio feeds from the main stage were transmitted to the TV Compound infrastructure via SDI. The redundant IP infrastructure was generated on the Arista 7280 and Lawo V_matrix switches to convert baseband SDI signals to IP, process and compress video signals and provide multiviewers. One of the V_matrix C100 blades was used to generate a multiviewer mosaic with 24 PiPs whose layout was prepared with Lawo's theWall software. The other software-defined C100 blades were dedicated to processing and conversion tasks. In total, 28 HD 1080i feeds and 4K feeds compressed into VC2 were used for video production. At GloboSat HQ, V_matrix received HD and 4K feeds, in addition to discrete audios from TV Compound for remote production.
Using Lawo Solution to Encapsulate the Signals
"We used the Lawo solution to encapsulate the signals and transport them to Globosat's HQ, which allowed us to work at home, in our infrastructure and record everything," commented Alexandre Torres, GloboSat's development manager. "IP has become a necessity for us. We operate dozens of channels from different contribution locations. In addition, IP allows us to produce remotely, easily automate certain routines and share our signals with third parties. Installation times are reduced and a significantly greater number of channels can be carried over a single cable with a much higher quality than in the past ", said the executive.
Monitor and Guarantee the Signal Integrity
To monitor and guarantee the signal integrity of all ST 2110 production feeds, explains the statement, GloboSat used Lawo's smartSCOPE Deep Packet Media Inspection & Network Analyzing solution. When installed on a server in the main installation, it also allowed easy access and monitoring both at TV Compound and at the remote production site, using the smartSCOPE web interface.
Immersive Audio Mix Produced at GloboSat's Headquarters
The immersive audio mix was produced at Globosat's headquarters with Dolby Atmos using a Lawo mc²96 production console. The Nova73 HD console and audio router also handled all audio routing for full 4K and HD productions, Lawo explains in a statement. "The sound engineers worked with 256 audio channels (128 per stage), which were recorded and distributed to various locations. The router inside the Lawo mc²96 console allowed to manage up to 256 IP streams, making it ideal for routing complex audio configurations to multiple sites "
"We record up to 256 channels of audio. We receive streams, generate streams, route to various locations and convert RAVENNA streams to MADI and DANTE or vice versa. This is only possible with a router like mc²96 ", said Gabriel Thomazini, operational audio coordinator at Globosat. "One of the aspects I like most about Lawo consoles is the clear and authentic sound, which faithfully reflects the timbre of an instrument. I suspect that this can be attributed to the German precision of the manufacturer… ".